Just wanted to link to a previously unpublished but oft-quoted study in the discussion about the tech shuttles' impact on San Francisco (with the author's permission) and write a few words about a policy committee meeting of the City & County of San Francisco's Commission on the Environment I went to last night, to decide whether they should endorse The City's plan to legalize the shuttles' use of Muni bus stops in an 18-month pilot project.
First, here are the links to the full report and to the summary.
The "Google Shuttle Effect:" Gentrification and San Francisco's Dot Com Boom 2.0
by Alexandra Goldman, MCP, Dept of City & Regional Planning, UC Berkeley
Full Report: PDF
Summary: PDF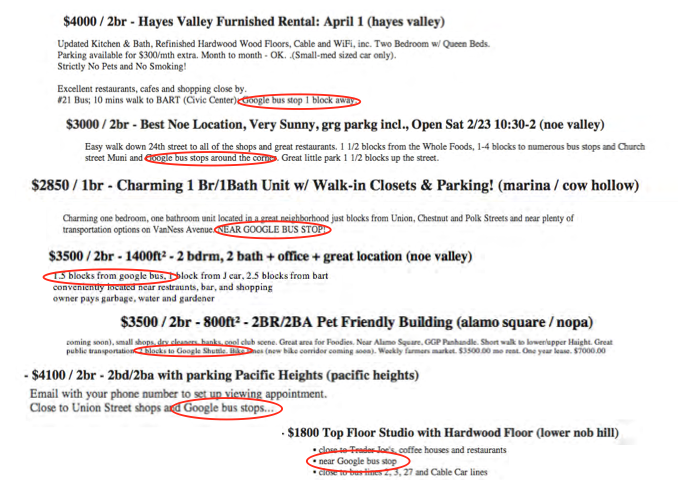 From The "Google Shuttle Effect:" Gentrification and San Francisco's Dot Com Boom 2.0
A bit more about that below. But now, to the meeting.
To be honest, I didn't even know this commission existed until Randy Stortroen, one of the commentators in my Google Bus post from last year, alerted me to it. The fact that the meeting was in a small room on the 4th floor of City Hall with just a handful of chairs for the public had me thinking that I wasn't the only SF resident unaware of this commission.
However, it was actually pretty cool to be part of the process, and three hours flew by in no time. The other big item on the agenda, Supervisor Chiu's proposed ordinance to restrict the sale or distribution on City property of drinking water in plastic bottles of 21 ounces or less, received a good debate on how to word it so the plastic bottle industry won't be able to finagle their way around it, and I'm psyched to see the City taking this one on.
The headliner though undoubtedly was the pilot to regulate the tech buses that have flooded SF streets over the last couple of years or so, set to go before the San Francisco Municipal Transportation Agency's board of directors on January 21. The proposal would allow the shuttles to use 200 of the more than 2,500 Muni stops, require them to use unique identification placards, and issue fines for violations. One weird thing is that even if the pilot is approved it wouldn't even start until July, so we're talking about another six months of unregulated shuttles no matter what.
Perhaps the most controversial part of the pilot is the $1 per stop per day fee, which according to SFMTA project manager Carli Paine, who was there to answer questions, amounts to about $100,000 per year for the biggest shuttle providers like Google. Let's just say $100k is not a lot of money for a company whose founders' fortunes soared by $10 billion each last year, but more importantly, there are few who believe it comes even close to covering the impact the buses are having on the streets and communities of SF.
Granted, there's a state law that prevents the SFMTA from charging a fee that goes beyond the cost of administering the program, but I doubt Prop 218, passed in 1996, foresaw a massive privately run transportation system by for-profit corporations on city streets. Also, nobody is keeping Google & Co from voluntarily pitching in a little extra just to show some goodwill towards the city whose public assets and cultural wealth they are using as a selling point to recruit young employees who don't want to live in the suburbs. But I guess that would be like paying taxes when you could also avoid them, and what self-respecting business would do that?
As paying a fair share voluntarily seems to not be on the table, a representative from the League of Pissed Off Voters suggested that the MTA could charge a higher "impact fee" if it conducted a "nexus study," covering things like Muni delays and housing impacts. Also, the Mayor or Board of Supervisors could put a proposed tax on the ballot. Personally I would welcome such a vote to let the people of San Francisco decide whether $1 to pull into a Muni stop is an adequate compensation. As a reminder, pulling that maneuver with a car will currently set you back $271.
I was heartened to see that I wasn't the only one concerned with the externalized side effects of this rapid unregulated expansion, with displacements and gentrification being the most visible ones, and the effects on public transit, the shuttle drivers' working conditions, or the wisdom of promoting 35 mile door-to-door commutes in the first place not far behind. Almost all members of the public who showed up, including committee members themselves, acknowledged that there were too many adverse social and economic effects to simply look at this as a "taking cars off the street" only issue.
And speaking of the much-touted car and CO2 reduction claims—Google says its buses are taking 4,000 cars off the road and 20,000 metric tons of CO2 out of the atmosphere— some really good questions were asked to that effect: like how many bus riders would have chosen to move to SF in the first place if it weren't for the buses, or what about the CO2 emissions of those displaced residents who now have to drive to get to work?
Also, Paine didn't have an answer on whether the numbers the tech companies are using to promote the buses' eco cred included the CO2 emitted from their diesel fleet or whether they're just throwing out the net numbers of alleged car trips avoided. And it's really difficult to find out about this, because none of the methodologies for the internal surveys the tech companies and SFMTA refer to when they warn about all those people who'd be buying and driving cars if it weren't for the buses are public, at least to my knowledge.
One of my own questions that I'll probably never get an answer for is about the carbon footprint that comes with the expendable income of someone who can afford a million dollars for a tiny condo, or $4000 a month for a 2-bedroom apartment that used to house someone with a teacher or bartender salary. How much fossil fuel gets burned to manufacture and ship all the stuff people with a million bucks can and will buy?
And since CO2 emissions are really of global impact, it might also be fair to ask how an entire industry that—while its intentions may genuinely be honorable—is ultimately enriching itself by enabling people around the world to buy and consume more stuff more quickly is lowering carbon footprints. Seeing that we've just passed 400 parts per million of atmospheric carbon dioxide with no indication of leveling off, there's no evidence as of yet that the tech industry can solve any problems larger than where to sleep, how to get a cab, or where and how our data are accessed.
While this is most likely beyond the scope of the January 21 SFMTA meeting, I think these are valid questions, especially since CO2 reductions have been used as one of the main justifications to sanction the illegal use of public bus stops by these private companies. My question to the commission was, shouldn't we have been discussing or voting on a pilot program of such magnitude before the oversized luxury coaches were allowed to multiply exponentially? Or as one commentator asked, if this becomes precedent, who is to keep Greyhound from using Muni stops as regularly scheduled pick-up and drop-off points?
We've certainly voted on much less consequential stuff in our local elections, so it's just kind of puzzling that this kind of planned major disruption of city streets did not get any kind of public review beforehand. For what it's worth now, I would have voted for maybe 5-10 depots strategically located around the City, accessible by public transit and perhaps smaller, citywide shuttles.
Speaking of vote, as was to be expected, the commission voted to endorse the pilot program, but to their credit they added language that this shouldn't just be a rubber stamping of going from pilot to permanent, but that there need to be comprehensive and transparent impact studies looking into the various unintended consequences of the program.
Alexandra Goldman's "The Google Shuttle Effect" study could be a good start. It chronicles how the rise of the corporate shuttles over the last three years has coincided with almost a tripling of Ellis Act Evictions and how rents of apartments within walking distance of the shuttle stops have gone up even more rapidly than those further away. To be honest, I was quite surprised that through all the passionate debate and protest over the past six months the study hadn't been posted anywhere yet, so after the author confirmed that indeed it hadn't, she asked me to go ahead and do so.
So here it is again:
The "Google Shuttle Effect:" Gentrification and San Francisco's Dot Com Boom 2.0
by Alexandra Goldman, MCP, Dept of City & Regional Planning, UC Berkeley
Full Report: PDF
Summary: PDF
One last word to shuttle riders: I know it sucks to feel like you're being scapegoated for problems you had no intention of causing and that may not even be the shuttles' fault exclusively. And it must be even worse to all get lumped together into one big stereotype when each of you has his or her own unique story, background, and politics. I mean, really, we're all pretty much techies these days, considering the amount of time many of us are sucked into the computer screens. And yes, there are larger housing and transportation issues that were there long before the shuttles.
But look at it this way—your commute has been the catalyst for a larger conversation about what we all want the city to look like in the future, perhaps even the world. It's brought some much-needed attention to the plight of some of the most vulnerable of our fellow San Franciscans, and people are now arguing over how to best keep them in their homes rather than ignoring the evictions altogether. There's now at least a public process in the works that might lead to a more equitable arrangement between your employers and the city, and if done right, it'll at least ease some of the current distrust and tension. You may even be inspired to join the process.
I say that's worth getting to work 30 minutes late and looking at a bunch of folks with funny vests and signs.
Update 1/16/2014
Here are the details about the upcoming SFMTA Board meeting:
SFMTA Board of Directors meeting, Tuesday, January 21, 2014 1:00 PM, City Hall, Room 400