So a bunch of concerned citizens of all stripes came out to Oakland yesterday to talk some fracking sense. More specifically, according to 350.org's count, over 8,000 of us marched…
and gathered to call for a ban on fracking in California. To me, it seemed like a sea of people.
The message was, specifically, for Governor Jerry Brown to put the kibosh on fracking…
but more broadly, to use his smarts when it comes to California's energy policy.
The good thing is that we know Governor Brown is a smart and caring guy who just called for expansive new environmental regulations and ambitious cuts to carbon emissions in his recent inaugural speech. We also know that Jerry knows something about We the People.
The problem is that in the frack-of-war between The Oil Barons and The People, Jerry is currently being pulled dangerously close to the barrel.

photo by kimoconnor
The oil industry seems to have planted enough $eed$ in Governor Brown's head to make him believe in the fairy tale that hydraulic fracturing for natural gas is a climate-friendly alternative to coal and oil. However, when you pull the curtain on all the flowery clean-gas talk and do an honest accounting, you quickly realize that the combined effects of toxicity and greenhouse gas emissions from fracking are no better if not worse than coal and oil.
The People have done the math and spelled out the simple equation for the Governor.
An equation whose effects rings way beyond California…
and whose messengers are intimately familiar with how this planet works…
It's time for Governor Brown to use his noggin and start whacking the oil demon…
put together the pieces of the puzzle…
so we can roll up our sleeves…
and get serious about real solutions.
March for Real Climate Leadership, Oakland, CA, February 7th 2015
Since I've organized a couple of bicycle actions before, I seem to be the go-to guy when it comes to gathering cyclists for these events. This one was pretty casual, as the idea was for cyclists to just show up, pick a sign, and ride along the march rather than scouting out our own route.
The REAL work had already taken place last week at an Art Build organized by creative rebel rouser extraordinaire, David Solnit, who had gotten a bunch of folks together to screen print all the banners, signs, and flags.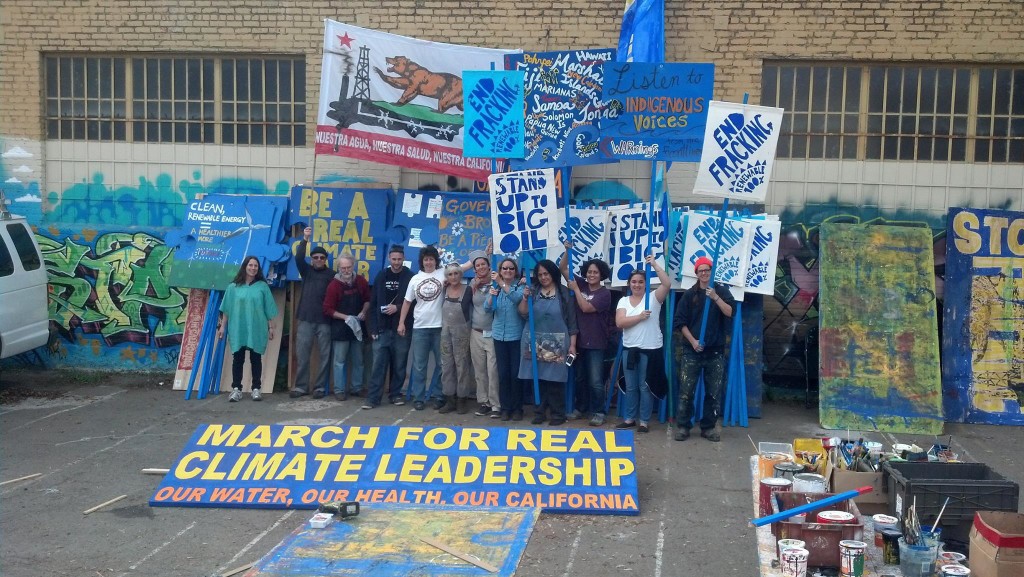 All I had to do was create an events page, invite a bunch of bike people in the Bay Area, and bring some zip ties and duct tape to the party. When I got to Oscar Grant Plaza at 10am, I picked up ten flags from David and headed over to the old oak tree, where the cyclists where supposed to meet. It was a pretty musical tree, serenaded by protest songs.
As people weren't really supposed to show up till 11, I walked around to get a feel for the early birds. Or should I say bees?
I took in the last rehearsal for the climate butterfly parachute…
and David's oily rendition of the California flag…
when I heard beautiful voices sounding from 15th Street. The Pacific Islander contingent was practicing the songs they would sing throughout the march, with goose bump-inducing harmonies.
Nearby, Penny Opal Plant and the Idle No More tribe were getting ready to lead the march.
Pretty soon, some cyclists were showing up, and my buddy John and I were getting them equipped with flags.
Onesies were out in full force…
Then the march got going, up Broadway.
past the Paramount…
and onto 23rd Street…
The cool thing about being on a bike was that we were able to cruise up and down the march, taking in the different perspectives and adding another moving part to the scene…
Speaking of moving parts, when we got to the Northern end of Lake Merritt, the flotilla was in full swing…
As I was waiting for the march to turn onto Harrison, I caught some good glimpses of the heart and soul of this procession.
On and on it went…
At the Southern end of the lake, things got so tight…
that we had to walk our bikes…

photo: kimoconnor
As if on cue, the moment we arrived at our final destination, it started to rain. Seeing that we didn't have a drop of rain the entire month of January, there were lots of smiles emanating from under the umbrellas. Certainly not without symbolism, considering the effects of fracking on water…
The sky was quite beautiful…
as a backdrop to a number of passionate pleas to the Governor to get with it, and more amazing art works that seemed to be popping up everywhere.
Down at the stage, pedalers were powering the Rock the Bike stage, once again showing that biking isn't just a transport solution.
As we left the festivities on our way over to BART, we ran into this guy, whose sign pretty much summarizes the larger choice that not only Governor Brown but all of us, as citizens, communities, and nations, are needing to make.
Are we going to stay on the highway to fossil-spewing climate disaster, or are we getting off at the very next exit?
---
crossposted at Daily Kos